'Game Changers Championship'
I am filled with immense pride for being involved in the creation of this outstanding project by SCHOLAR for Valorant. Working alongside such incredible artists (check credits below) has been an absolute privilege. My focus during this project was on the styling of the titles.
In the high-octane world of competitive esports, VALORANT Game Changers is a force to be reckoned with. They are women and gender-marginalized players within the VALORANT community, rejecting convention with their bold spirit and insanely talented play. Partnering with Riot Games, we set out to create a visually stunning campaign for the first-ever Game Changers Championship that matched the intensity and fearlessness of the pros themselves. This is how you Seize the Play!
To create a legendary showstopper, we crafted an action-packed story with Riot Games that is stylized with radiant energy--psychedelic and surreal--bringing anime-inspired action into a dreamscape of VALORANT imagery and lore. Highlighting five Game Changers pros from across the globe, we set out to bring their in-game personas to the forefront, turning their skill and creativity into mind-bending action with VALORANT ability easter eggs and an endless supply of pure grit. The combination of hyper-stylized visuals, kinetic action, editorial, and fearless individuality launched this campaign into the stratosphere as a showcase of the unrelenting talent and fearlessness of VALORANT Game Changers.
​​​​​​​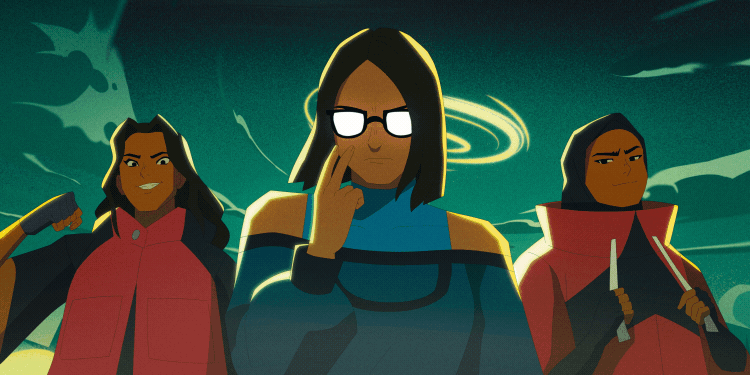 Story By: Riot Games, Macauley Johnson, Ana Chang
Creative Director: Macauley Johnson
Animation Director: Alex Bernas
Lead Compositor: Andrew Tan
CG Supervisor: Kevin Kolodinsky
Managing Executive Producer: Kirsten Noll
Executive Producer: Antonio Hardy
Head of Production: Nicole Smarsh
Senior Producer: Christina Yiallouris
Associate Producer: Bella Bergeron
Production Assistant: Jack Readman
Pitch Producer: Marcus Fussell
Designers: Aivy Nguyen, Kiron Robinson, Cendan Claiborne, Jose Bernabe, Kyle Fewell, Siena Mae, Stephanie Stromenger, Tiago Calliari, Victorien Aubineau
Cel Animators: Aivy Nguyen, Alex Bernas, Ana Chang, Danni Fisher-Shin, Zach Herdman, Barbara Benas, Billy Mpetha, Bruno de Mendonca, Deco Daviola, Laura Yilmaz, Michael Relth, Olivia Blanc, Romario Clarke
Media Manager: Adrianna McKinley
3D/ Previz Animators: Han Hu, Kevin Kolodinsky, Stephen Van Wyk, Derek Friesenborg, Sarah Wolfe, Steven Dvornik
Compositors: Kenny Kerut, Sam Bachman, Andrew Tan, Dylan Blau, Jip Jeong
2D Animators: Kiron Robinson, Zach Herdman
Mix & Sound Design: Another Country
Mix & Sound Designer: Erik Widmark